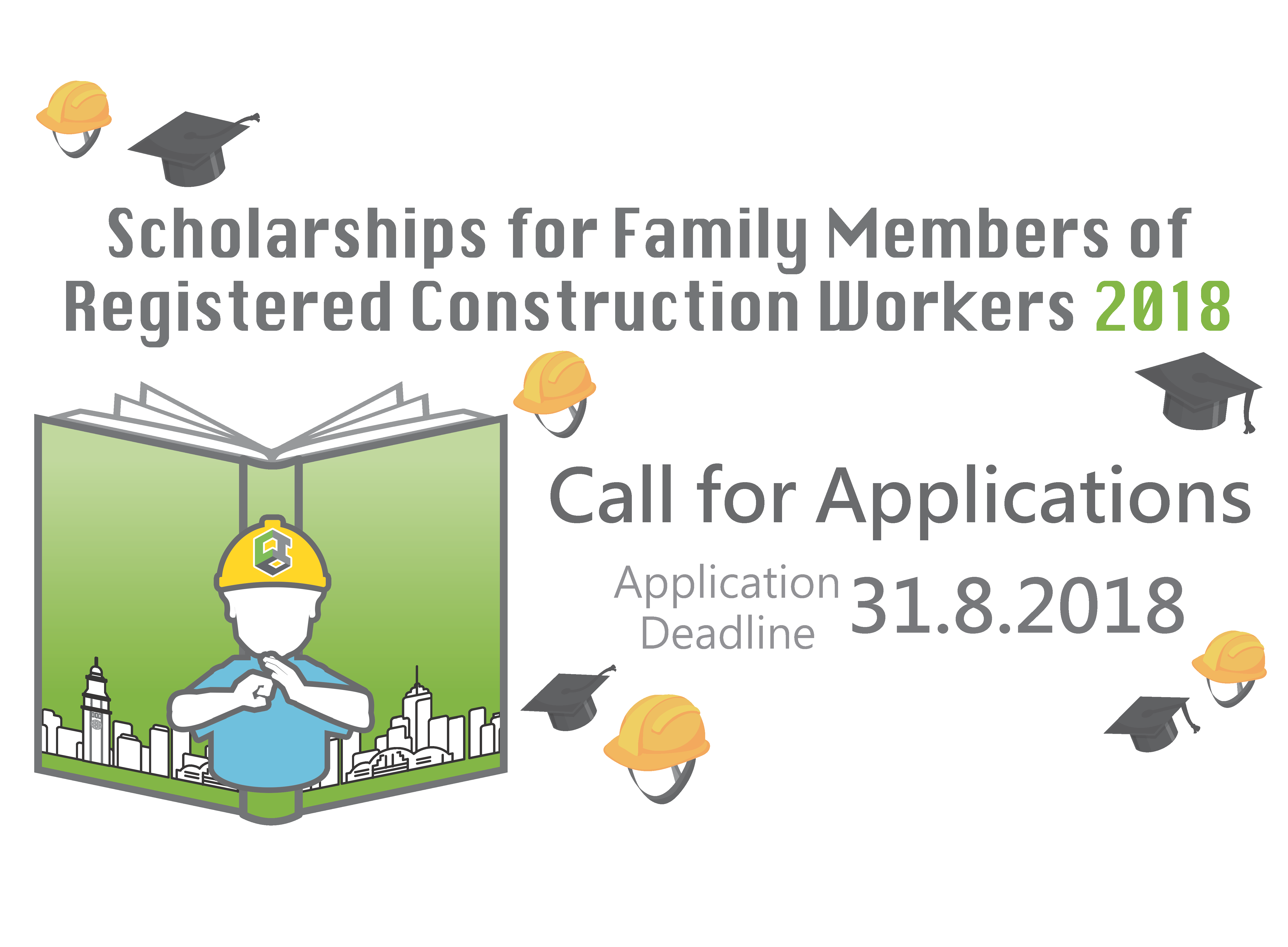 "Scholarships for Family Members of Registered Construction Workers" aims to commend students whose parents, siblings or legal guardians are registered construction workers for their outstanding academic achievements in the Hong Kong Diploma of Secondary Education (HKDSE). The Scholarships also recognise construction workers' endeavour to the sustainable development of Hong Kong while nurturing their next generations."

* The CIC reserves the right to make the final decision on the Scholarships presentation, ranking of winners, number of Scholarships to be offered as well as the Scholarships amount.
Eligibility
Applicants must meet the following requirements at the time of application:
A candidate of the 2018 HKDSE who attains minimum scores of "3, 3, 2, 2" or above and has been accepted by a local university or tertiary institution for 2018 - 2019 academic year.
A Hong Kong resident.

At least one of the applicant's parents, legal guardians or siblings must be

currently engaged in "construction work" 1 . Those carrying out non-construction works on construction sites (e.g. site clerk, security guard, site management, etc.) will not be considered; and
a registered construction worker with valid registration on/before 30 June 2018 and the registration is still valid on the dates of the submission of the application form and the scholarships award presentation ceremony.

The applicant's parents/legal guardians/siblings must not be a full-time employee of Construction Industry Council.
Download Application Form in PDF
Submission of the PDF application form and copies of required documents:
By mail : 38/F COS Centre, 56 Tsun Yip Street, Kwun Tong, Kowloon, Hong Kong ("CIC Scholarship 2018" must be marked on the front of the envelope, applications received by mail will be dated by the postmark.)
By e-mail :cwro-enquiry@cic.hk
In person :CIC Headquarters 38/F COS Centre, 56 Tsun Yip Street, Kwun Tong, Kowloon, Hong Kong (Business Hours: Monday to Friday 9am – 5:30pm; Closed on Saturdays, Sundays and public holidays) ; or Workers Registration Service Centres
Note 1: definition of "construction work" under section 2 of the Construction Workers Registration Ordinance (Chapter 583)
construction work (建造工作)—
(a)means—
(i)the construction, erection, installation or reconstruction of any specified structure;
(ii)the addition, renewal, alteration, repair, dismantling or demolition of any specified structure that involves the structure of the specified structure or any other specified structure;
(iii)any building operation involved in preparing for any operation referred to in subparagraph (i) or (ii), including laying of foundations, excavation of earth and rock prior to laying of foundations, site clearance, site investigation, site restoration, earthmoving, tunneling, boring, scaffolding and provision of access;
(iv)any building operation, or building services work, forming an integral part of, or rendering complete, any operation referred to in subparagraph (i) or (ii);
(v)any building services work that involves the structure of any specified structure; or
(vi)any maintenance work, carried out under a term contract for maintenance, of any specified structure owned by, or otherwise belonging to, a public body or a specified body; but
(b)excludes all of the following—
(i)building works for which a certificate of exemption is issued under the Buildings Ordinance (Application to the New Territories) Ordinance (Cap. 121);
(ii)class III minor works as defined by section 2(2)(c) of the Minor Works Regulation;
(iii)designated exempted works as defined by section 2(1) of that Regulation.