Construction Business Support Scheme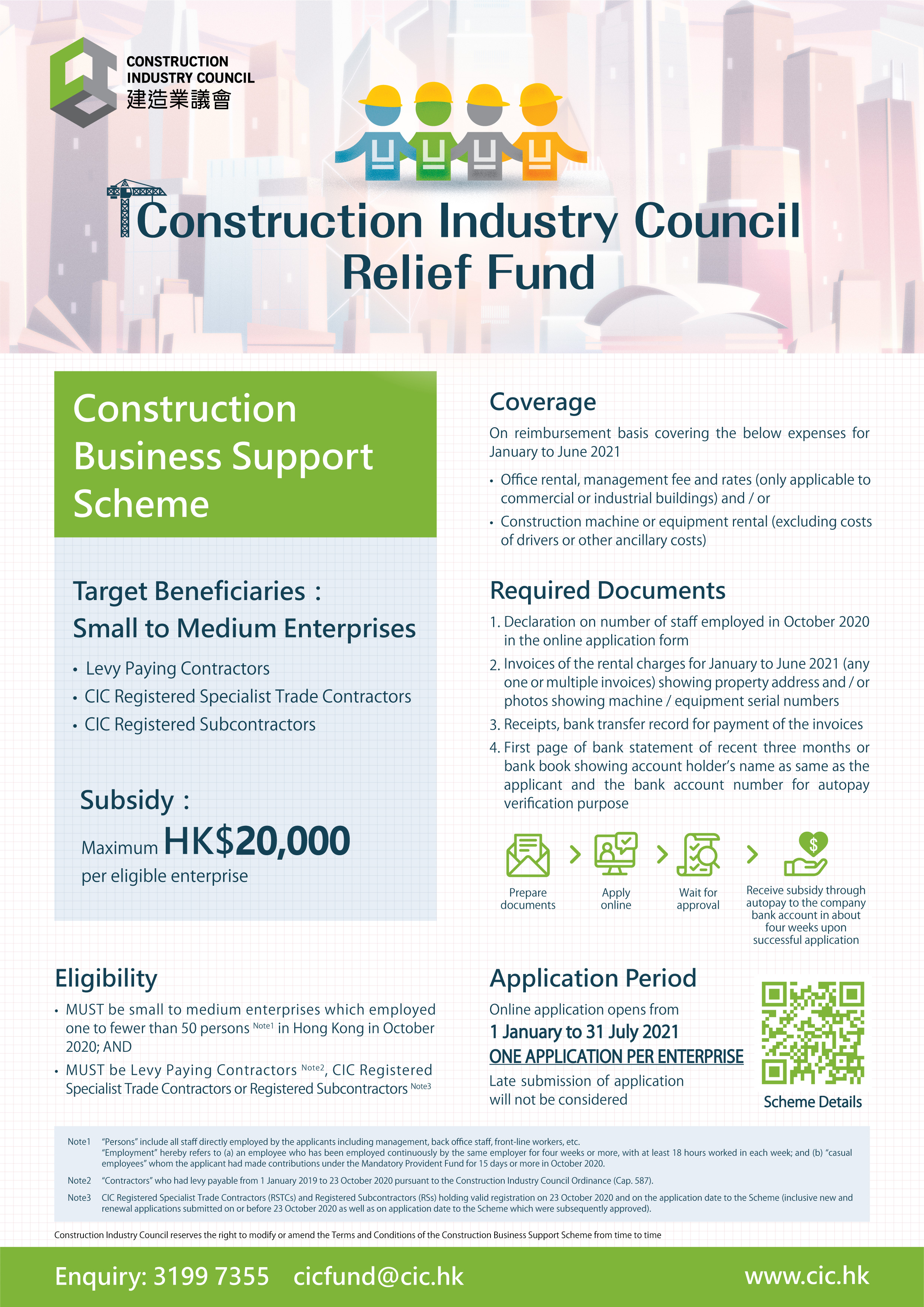 Target Beneficiaries
Small to medium enterprises of Levy Paying Contractors, CIC Registered Specialist Trade Contractors or Registered Subcontractors


Subsidy
Maximum HK$20,000 per eligible enterprise


Coverage
On reimbursement basis covering the below expenses for January to June 2021:
Office rental, management fee and rates (only applicable to commercial or industrial buildings) and / or
Construction machine or equipment rental (excluding costs of drivers or other ancillary costs)


Eligibility
Must be small to medium enterprises which employed one to fewer than 50 persons in Hong Kong in October 2020; AND



"Persons" include all staff directly employed by the applicants including management, back office staff, front-line workers, etc.

"Employment" hereby refers to (a) an employee who has been employed continuously by the same employer for four weeks or more, with at least 18 hours worked in each week; and (b) "casual employees" whom the applicant had made contributions under the Mandatory Provident Fund for 15 days or more in October 2020.

Must be Levy Paying Contractors, CIC Registered Specialist Trade Contractors or Registered Subcontractors

"Contractors" who had levy payable from 1 January 2019 to 23 October 2020 pursuant to the Construction Industry Council Ordinance (Cap. 587); or

CIC Registered Specialist Trade Contractors (RSTCs) and Registered Subcontractors (RSs) holding valid registration on 23 October 2020 and on the application date to the Scheme (inclusive new and renewal applications submitted on or before 23 October 2020 as well as on application date to the Scheme which were subsequently approved).


How to Apply
Only online application will be accepted. ONE application per enterprise
(Please submit the online application on or before 31 July 2021)
Required Information and Documents
Declaration on number of staff employed in October 2020 in the online application form
Invoices of the rental charges for January to June 2021 (any one or multiple invoices) showing property address and / or photos showing machine / equipment serial numbers
Receipts, bank transfer record for payment of the invoices
First page of bank statement of recent three months or bank book showing account holder's name as same as the applicant and the bank account number for autopay verification purpose


Application Period
From 1 January to 31 July 2021
Late submission of application will not be considered


Enquiry
Hotline: 3199 7355
Email: cicfund@cic.hk


Construction Industry Council reserves the right to modify or amend the Terms and Conditions of the Construction Business Support Scheme from time to time.