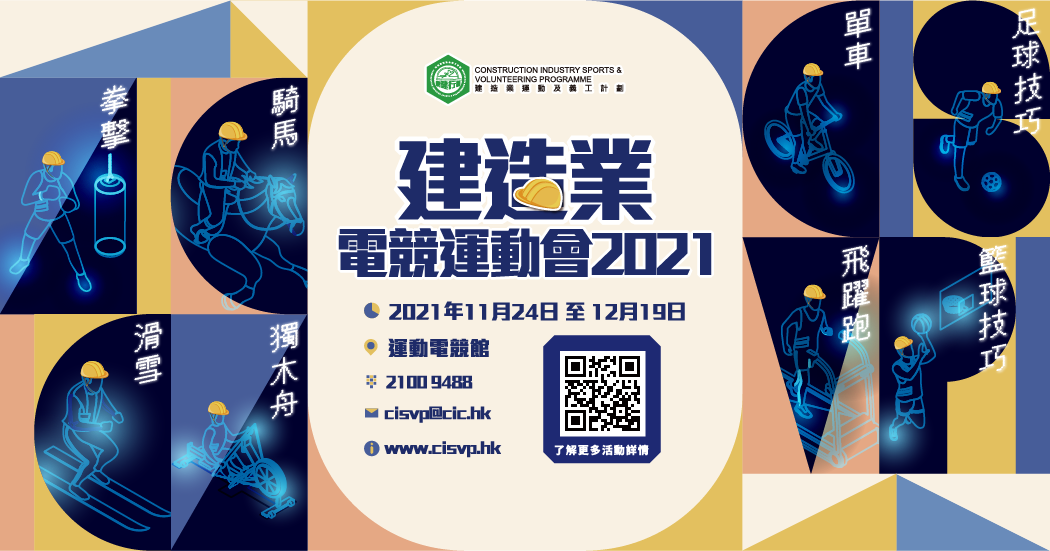 Construction Industry E-Sports Games 2021
"Construction Industry E-Sport Games 2021" is slated for November to December 2021. All construction industry practitioners are cordially invited to take part in this industry-wide sports event.
Industry organisations and practitioners have been supporting the Construction Industry Sports Day and Charity Fun Day over the past years. Due to the COVID- 19, CISVP move the competition venue from playground to E-Sports Stadium. Practitioners can enjoy E-Sport experience during the competition period (24 November 2021 to 19 December 2021).
There are 2 competition categories with 8 E-Sport games. Individual items are E-Skiing, E-Basketball, E-Football and E-Boxing. Organisation items are E-Cycling, E-Racing, E-Running and E-Kayak. For the top 4 Winners of different categories and competition items will be invite to join the Final Games on 19 December 2021.
Besides, all sponsor income and enrolment fee will be used for the promotion of volunteer services by the construction industry. Different kinds of sponsor format are provided, there are Platinum Sponsor, Gold Sponsors, Sliver Sponsors, Towel Sponsors, E-Sport Game item title sponsor and Award Name title sponsor. The support from all construction industry organisations would be greatly appreciated. Please refer to this link for further information.
For prospectus and online enrolment, please visit this link: www.cicesportsgames.hk. Enrolment deadline is Wednesday, 10 November 2021. Looking forward to your support and participation. For enquiries, please contact CISVP Office at 2100 9488 or cisvp@cic.hk.