Skip to main content

Award Details
Awards Presentation Ceremony Highlights
Key Dates
| Event | Date |
| --- | --- |
| Nomination Deadline | 4 March 2019 |
| Result Announcement | May 2019 |
| Construction Industry Service Day | 19 May 2019 |
| Awards Presentation Ceremony | 21 September 2019 |
Categories
The Award will recognise outstanding practitioners engaged in the 3 major categories in the construction industry.
Design and Management

(e.g. Engineer, Architect, Planner, Surveyor, Safety Officer, Supervisor, etc.)

Frontline Construction Personnel

(Registered construction workers, e.g.Registered Skilled Worker, Registered Semi-skilled worker etc.)

Business, Academic and Others

(People who engage in business operations, e.g. developers, contractors, subcontractors, suppliers; OR People who engage in academic activities, e.g. Professors, Instructors etc.)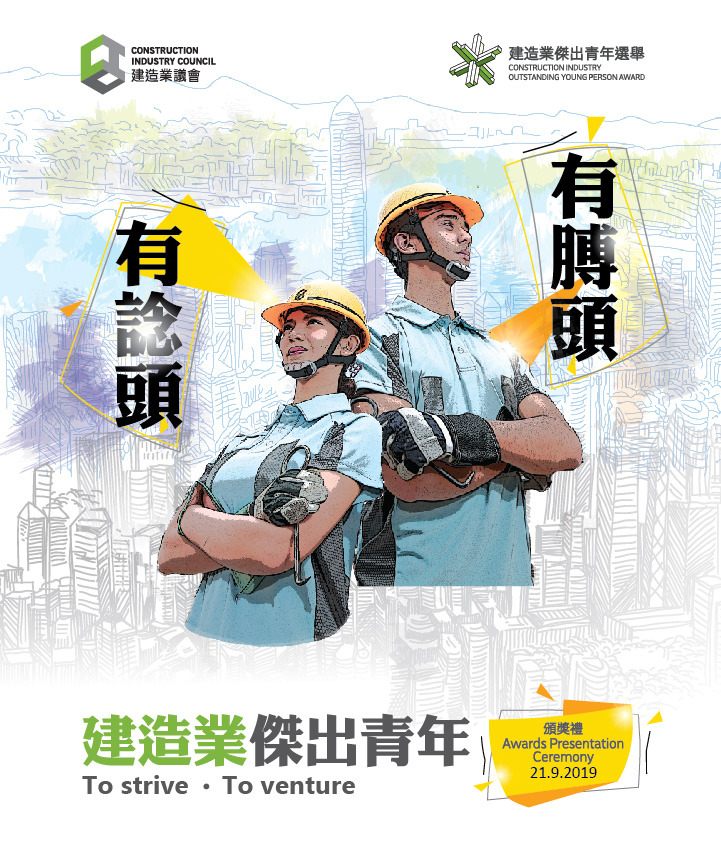 Eligibility
Nominee:
Must be a Hong Kong permanent resident

Aged 20 to 40 (Between 4 March 1979 and 4 March 1999)

Be nominated by one Proposer

Be able to attend the initial screening interview arranged by the Selection Consultant and the final judging interview
Proposers:
Must be a Hong Kong permanent resident and aged 20 or above; OR

A public / private organisation registered in Hong Kong.
Award
Awardees will be presented a trophy at the Awards Presentation Ceremony, and will be invited to participate in various construction industry related events and conferences so as to promote the sustainable development of the industry and enhance the professional image.
Proposers of the awardees will also receive a trophy in appreciation of their nominations at the Awards Presentation Ceremony.

Judging Panel
Chairman:
Members:
Ir LAM Sai-hung, JP, Permanent Secretary for Development (Works)

Hon WONG Kwok-kin, SBS, JP, (Non-Official Members, Executive Council)

Mr. CHAN Ka-kui (Chairman, Construction Industry Council)
Judging Criteria
Personal achievement of the Nominee, his/her contribution to the construction Industry and the community at large and his / her vision and commitment to Hong Kong.

Selection Procedures
1. Initial Screening Interview
Initial Screening Interview will be arranged in March / April 2019 by the Selection Consultant to verify the information obtained in the nomination form, to examine the eligibility of each nominee and to shortlist a list of nominees for final judging interview. All information pertinent to the nominations will be treated confidentially and will not be published unless the nominee is selected.
2. Final Interview
All short-listed nominees will be notified and invited to attend the final judging interview by the Panel of Judges held in May 2019.
Contact Us
Tel: 2100 9000
Email: corpcomm@cic.hk

Gold Sponsors



Silver Sponsors



Bronze Sponsors



Supporting Organisations

Last Updated: 2019-09-30 10:20:40