Skip to main content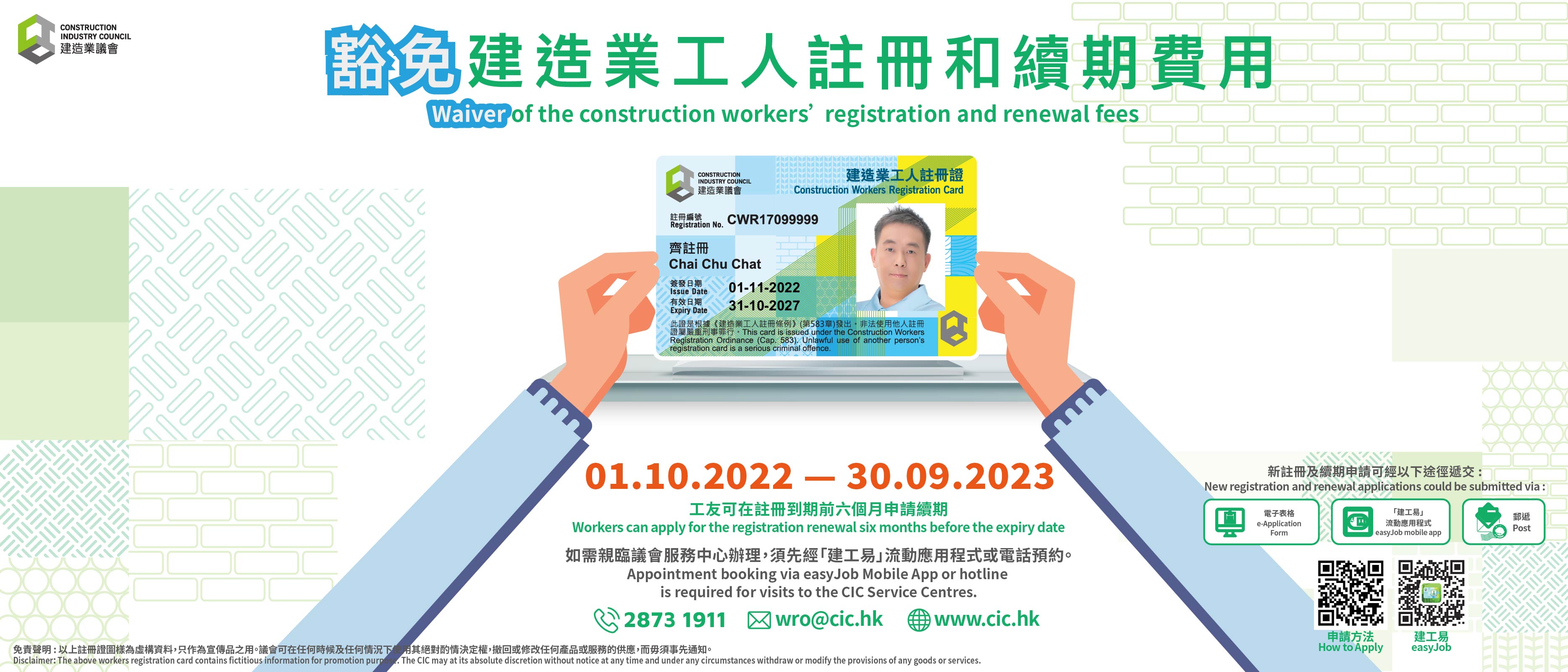 Applicants may apply for Construction Workers Registration by the following methods:
Applicable to new registration / renewal / information update
1.

By Mail:

Applicant can submit application by mail. Please send the completed application form, together with a copy of the required supporting documents and a self-addressed envelope with sufficient postage to "Construction Industry Council, 38/F, COS Centre, 56 Tsun Yip Street, Kwun Tong, Kowloon" with "WR" marked on the envelope. (Note: Applicants are required to submit a copy of supporting documents only for application by mail and sign on each copy to certify it. For new registration or request for update of photo record, a recent colour photo with clear facial features in the plain white background must be provided.)

Application Form for Construction Workers Registration

VIDEO GUIDE: HOW TO FILL IN THE APPLICATION FORM FOR CONSTRUCTION WORKERS REGISTRATION

2.

By easyJob (Worker Version) mobile application:

Applicants can renew the Construction Workers Registration and update registered information through easyJob (Worker Version).

Information on the easyJob (Worker version) mobile application

3.

By e-Application:

4.

Submission of Application via Unions:

Applicant can submit application via the unions specified below. Please call the unions first to ascertain their service hours and details.

Hong Kong Construction Industry Employees General Union
2/F., Wah Hing Commercial Centre., 383 Shanghai Street, Yaumatei, Kowloon (Tel.:2388 6887)

The Federation of Hong Kong Electrical & Mechanical Industries Trade Unions
3/F, Prosperity Centre, 982 Canton Road, Kowloon (Tel.:2626 1927)
M/F., 5 Yu Chau Street, Mongkok, Kowloon (Tel.:2393 9955)
3A, Sun Hey Mansion, 68 Hennessy Road, Wanchai, Hong Kong (Tel.:2393 6285)

Construction Site Workers General Union
Unit E, 2/F, Wang Cheong Commercial Building, 249-253 Reclamation Street, Yau Ma Tei (Tel.:2789 2701)

5.

Group Submission of Application:

Companies / employers / organisations are welcomed to help their workers / members submit application forms in groups.
Phone booking and enquiry at 2873 3002.
Applicable to Loss / Damage of Construction Workers Registration Card
1.

By Mail:

Applicant can submit application by mail. Please send the completed application form, together with a copy of the required supporting documents and a self-addressed envelope with sufficient postage to "Construction Industry Council, 38/F, COS Centre, 56 Tsun Yip Street, Kwun Tong, Kowloon" with "WR" marked on the envelope. (Note: Applicants are required to submit a copy of supporting documents only for application by mail and sign on each copy to certify it. For new registration or request for update of photo record, a recent colour photo with clear facial features in the plain white background must be provided.)

2.

By e-Application:

Applicant can submit the application form together with copies of the supporting documents electronically. (Note: For new registration or request for update of photo record, a recent colour photo with clear facial features in the plain white background must be provided.)
Last Updated: 2023-09-22 14:22:00