Skip to main content

Award Details
Awards Presentation Ceremony Highlights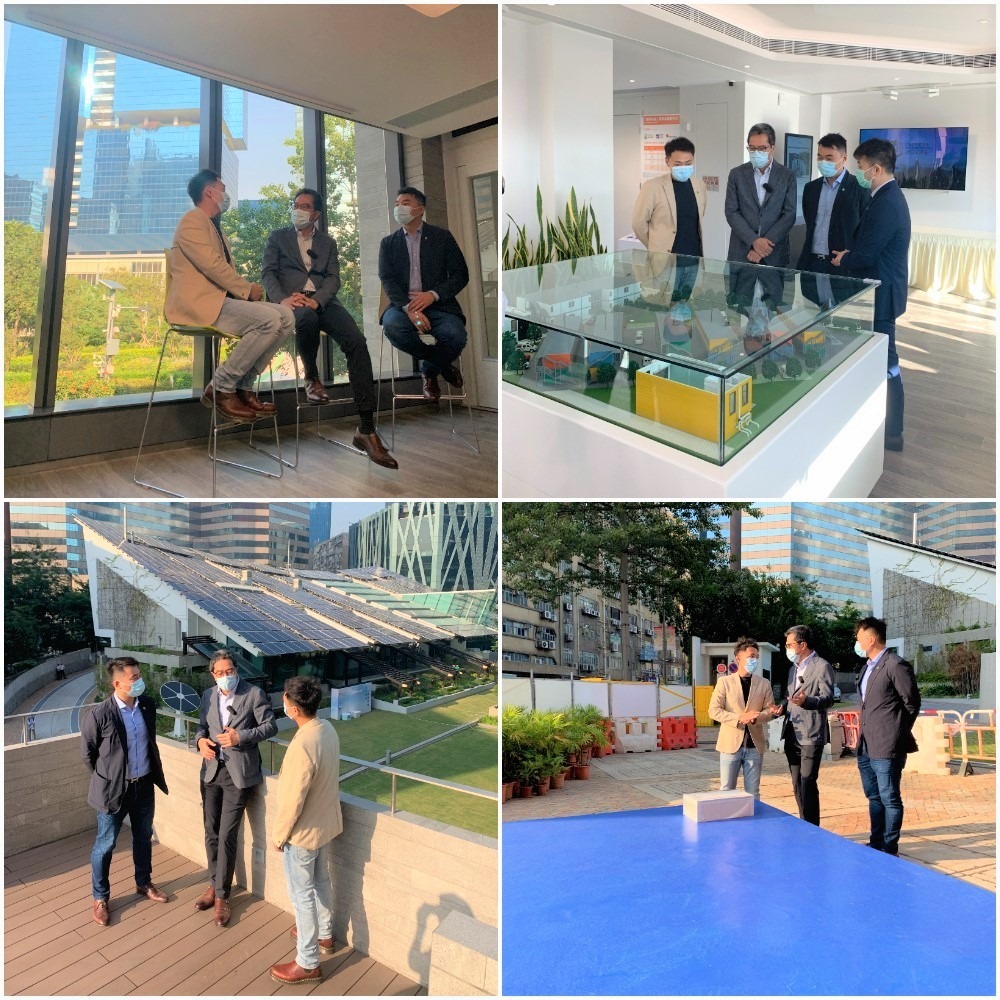 【Headline! Chat with Michael WONG】(Chinese version only)
CIOYPA Winners had the opportunity to chat with Mr. Michael WONG, Secretary for Development, sharing their work experiences and exchanging views for the betterment of the industry.
【1st CIOYPA Winners' Sharing】(Chinese version only)
1st CIOYPA Winners share how "CIOYPA" helped them to move up
Expert Decorator - Mr. Will KWOK
Frontline Construction Personnel
Senior Project Manager - Cr Michael WONG
Design and Management
BIMer - Prof. Jack CHENG
Business, Academic and Others
Architect - Ar. Stanley SIU
Design and Management
BIMer - Dr. Neo CHAN
Design and Management
【1st CIOYPA Proposers' Sharing】(Chinese version only)
1st CIOYPA Proposers share why they nominated them and witness how they changed
Cr ZA Wai-gin, Tony
Proposer of Cr Michael WONG
Prof. LEUNG Kin-yin, Christopher
Proposer of Prof. Jack CHENG
Ar. LIM Wan-fung, Bernard Vincent
Proposer of Ar. Stanley SIU
【Live with CIOYPA Winners】(Chinese version only)
CIOYPA Winners had held Live sessions in CIC Facebook fan page to share their expertise and knowledge to the Public.
7.8.2020


14.8.2020

11.9.2020

18.9.2020


20.11.2020


Expert Decorator: Answering home decorating questions
Mr. Will KWOK
BIMers: Sharing of new development and market trend of BIM
Dr. Neo CHAN (Left) & Prof. Jack CHENG (Right)
Architect: Telling construction projects around the world
Ar. Stanley SIU
Senior Project Manager: How to be a multitasker at construction sites
Cr Michael WONG
Akina x 1st CIOYPA Winners
【Tenacity through adversity- Outstanding Young Person Award Winners】(Chinese version only)
In time of unpredicatable epidemic, CIOYPA Winners have empowered people and changed their operation modes to combat the epidemic.
| | | | |
| --- | --- | --- | --- |
| | | | |
| Cr Michael WONG | Ar. Stanley SIU | Mr. Will KWOK | Prof. Jack CHENG |
| Although construction progress has slowed to a crawl, Michael knows as a Project Manager, it is now more important than ever to protect the health of his employees, bring leadership, and to never abandon one's spirit for self-improvement. | Because of the coronavirus pandemic, Stanley has recently been able to spend more time with family, read books on architecture, and establish a better work-life balance. The extra time has brought on new inspiration, which he hopes to channel into creating more innovative and audacious construction projects. | In addition to being a talented painter, Will is also great at putting together complex machinery. During the coronavirus epidemic, he did his part for society by leading a team of colleagues to help a local mask manufacturer set up a production line. Truly an inspiration! | Like many others, Jack took his teaching online during the Covid-19 pandemic to ensure his students were able to continue their studies. As an Associate Professor at HKUST, Jack also used the extra time to read up on the latest developments in BIM. He hopes that after the pandemic, both students and professors alike will once again cherish the face to face interaction missing from online classes. |
Key Dates
| Event | Date |
| --- | --- |
| Nomination Deadline | 4 March 2019 |
| Result Announcement | May 2019 |
| Construction Industry Service Day | 19 May 2019 |
| Awards Presentation Ceremony | 21 September 2019 |
Categories
The Award will recognise outstanding practitioners engaged in the 3 major categories in the construction industry.
Design and Management

(e.g. Engineer, Architect, Planner, Surveyor, Safety Officer, Supervisor, etc.)

Frontline Construction Personnel

(Registered construction workers, e.g.Registered Skilled Worker, Registered Semi-skilled worker etc.)

Business, Academic and Others

(People who engage in business operations, e.g. developers, contractors, subcontractors, suppliers; OR People who engage in academic activities, e.g. Professors, Instructors etc.)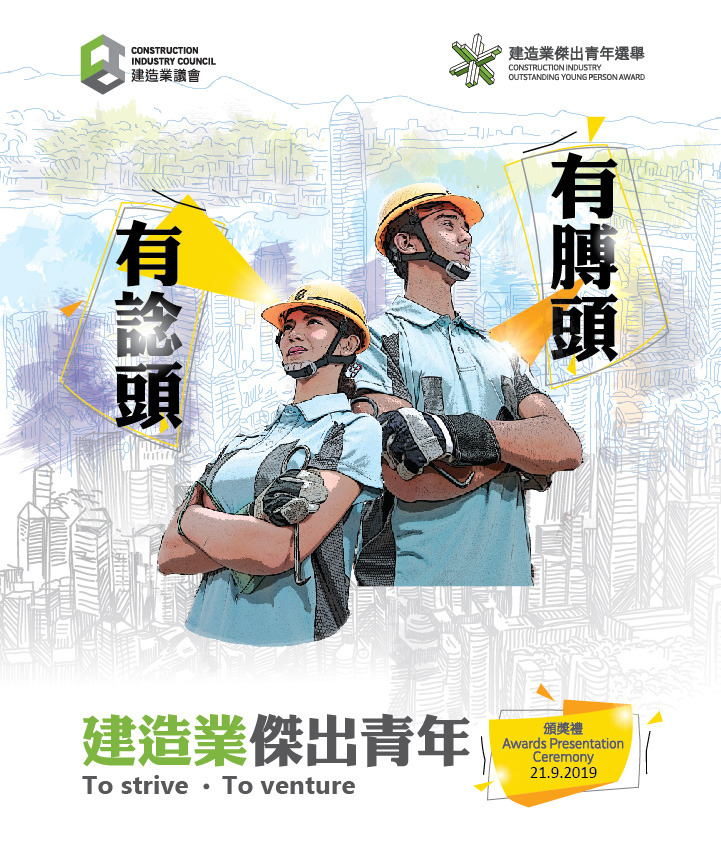 Eligibility
Nominee:
Must be a Hong Kong permanent resident

Aged 20 to 40 (Between 4 March 1979 and 4 March 1999)

Be nominated by one Proposer

Be able to attend the initial screening interview arranged by the Selection Consultant and the final judging interview
Proposers:
Must be a Hong Kong permanent resident and aged 20 or above; OR

A public / private organisation registered in Hong Kong.
Award
Awardees will be presented a trophy at the Awards Presentation Ceremony, and will be invited to participate in various construction industry related events and conferences so as to promote the sustainable development of the industry and enhance the professional image.
Proposers of the awardees will also receive a trophy in appreciation of their nominations at the Awards Presentation Ceremony.

Judging Panel
Chairman:
Members:
Ir LAM Sai-hung, JP, Permanent Secretary for Development (Works)

Hon WONG Kwok-kin, SBS, JP, (Non-Official Members, Executive Council)

Mr. CHAN Ka-kui (Chairman, Construction Industry Council)
Judging Criteria
Personal achievement of the Nominee, his/her contribution to the construction Industry and the community at large and his / her vision and commitment to Hong Kong.

Selection Procedures
1. Initial Screening Interview
Initial Screening Interview will be arranged in March / April 2019 by the Selection Consultant to verify the information obtained in the nomination form, to examine the eligibility of each nominee and to shortlist a list of nominees for final judging interview. All information pertinent to the nominations will be treated confidentially and will not be published unless the nominee is selected.
2. Final Interview
All short-listed nominees will be notified and invited to attend the final judging interview by the Panel of Judges held in May 2019.
Contact Us
Tel: 2100 9000
Email: [email protected]

Gold Sponsors



Silver Sponsors



Bronze Sponsors



Supporting Organisations

Last Updated: 2023-05-04 19:03:16