The Construction Industry Council is pleased to announce that as part of the collaboration with NEC UK, a 10% discount is offered for the online purchase of NEC3 Contracts (ePrint Version) via the NEC UK website (https://www.neccontract.com/Products/Contracts/NEC3-April-2013-Edition-complete-family-of-contra)
Simply enter HKCIC10 at the checkout and the discount will be applied to the applicable purchase.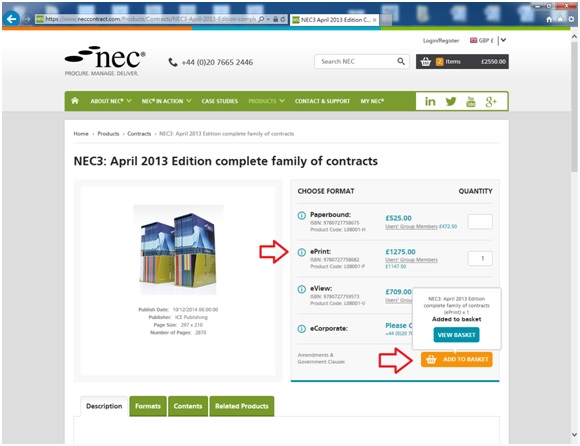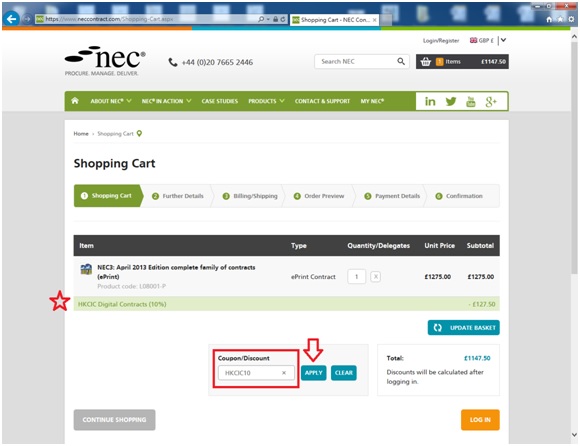 Should you have any queries on the matter, please do not hesitate to contact Mr. Rocky CHO at (852) 2100 9070.
Disclaimer
The offer, provision or use of the above discount code does not create a contract or any legal relationship between the user of the discount code and the Construction Industry Council. Any purchase of NEC3 Contracts (ePrint Version), whether with the use of the discount code or otherwise, is an arrangement solely between the user/purchaser and NEC UK. The Construction Industry Council does not accept any and disclaims all liability in connection with or arising out of the purchase of NEC3 Contracts (ePrint Version).
About the Construction Industry Council
The Construction Industry Council (CIC) was formed in 2007 under the Construction Industry Council Ordinance (Cap. 587). The CIC consists of a chairman and 24 members representing various sectors of the industry including employers, professionals, academics, contractors, workers, independent persons and Government officials.
The main functions of the CIC are to forge consensus on long-term strategic issues, convey the industry's needs and aspirations to Government, provide training and registration for the construction workforce and serve as a communication channel for Government to solicit advice on all construction-related matters.
Please visit www.cic.hk for further details.
NEC3 Contracts
NEC3 is a family of contracts unique in offering a complete end-to-end project management solution for the entire project life-cycle; from planning, defining legal relationships and procurement of works, all the way through to project completion, management and beyond.
NEC3 contracts are designed to save you time and money while increasing standards by encouraging collaborative working in order to achieve shared project objectives between all parties. This philosophy promotes a less adversarial approach, decreasing the chance of time consuming and costly disputes.