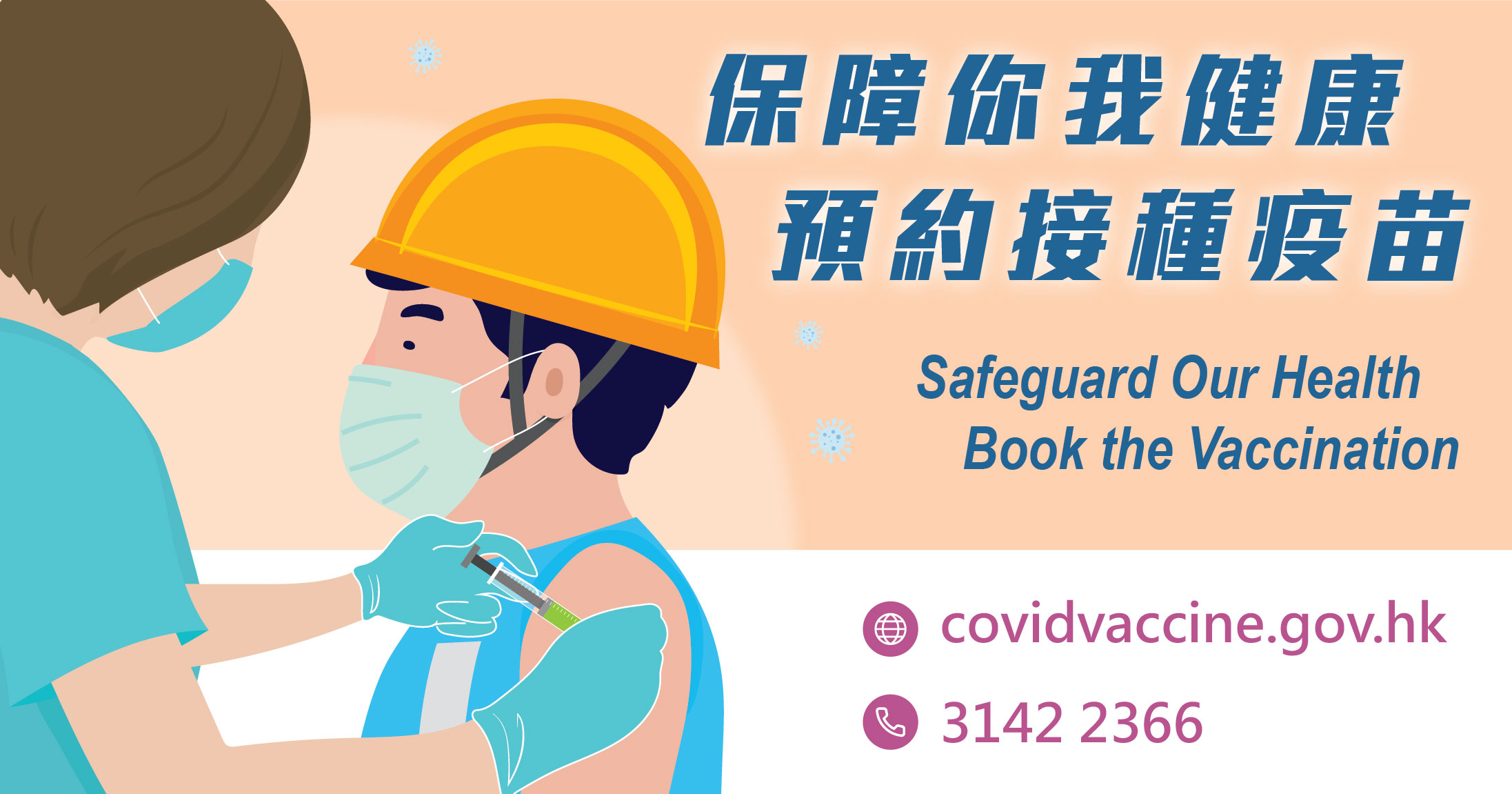 The HKSAR Government announced on 8 March 2021 (Monday) that registered construction workers will be included in the priority group for the COVID-19 Vaccination Programme. With further clarification from the Development Bureau, the Government also expanded the scope of the priority group to cover "other resident site personnel" in addition to "registered construction workers". Under the programme, both registered construction workers and other resident site personnel can get vaccinated early to further protect themselves and others. For more information, please visit: www.covidvaccine.gov.hk.
Booking for vaccination:
The Construction Industry Council and the Hong Kong Construction Association appeal to main contractors and subcontractors to encourage to encourage all construction industry practitioners to get vaccinated. Contractors are also encouraged to assist workers in making reservation through the online booking system (booking.covidvaccine.gov.hk/forms/index.jsp) for administering vaccines at community vaccination centres or designated general outpatient clinics of the Hospital Authority. Workers and resident site personnel may also contact designated private clinics to make reservations for their vaccination.
Documents required:
1. Construction workers: Construction Workers Registration Card issued by the Construction Industry Council
2. Other resident site personnel: Completed and signed letter with company / organisation chop issued by employer (The sample letter can be downloaded from the COVID-19 Vaccination Programme website www.covidvaccine.gov.hk. Staff at vaccination venues will not collect the employer letter, resident site personnel may use the same letter for receiving the 2 doses of vaccines.)
Download Sample Employer's Letter
Remarks: "Other resident site personnel" includes all personnel employed by contractors / consultants / clients to work at construction sites, for example architects, engineers, land surveyors, quantity surveyors, contract managers, site managers and supervisors , site foremen, technicians, safety officers, clerical staff, tea servers, security guards and drivers, etc.
The Construction Industry Council and the Hong Kong Construction Association will continue to monitor the development of the epidemic and make necessary adjustments to relevant measures (including adjustments to COVID-19 testing intervals for construction site workers as needed) in order to help the construction industry to overcome challenges ahead. We shall work together to provide a healthy working environment and safeguard our workers.
Enquiry:
Please dial 3142 2366 for enquiries related to the vaccination programme.