The construction industry in the UK has explored and practiced Common Data Environment (CDE) since the 1980s. Possessing the first mover advantage, the UK industry practitioners have been continuously exporting their technology and experience in recent years. Their works are widely hailed as industry models, their local economy and productivity are benefited as well.
The adoption of CDE serves as an entry point for the digitalization of our industry. It is a goal of mine to popularize the use of CDE in the industry. The construction industry plays a pivotal role in turning Hong Kong into a smart city and the use of CDE is vital in this process. In 2020 Q4, the Hong Kong government has released 3D Pedestrian Network and 3D Visualization Map datasets to the public for free. CDE, BIM (Building Information Modelling) and GIS (Geographic Information System) are closely related and they complement each other. The confluence of these three important technologies and the open data initiative unleash unlimited opportunities for our industry. We should be proactive and ride on the trend.


Common Data Environment for the Construction Industry
The construction industry's Common Data Environment is generally built on the cloud, performing functions like production, storage, and access of data, anytime. Project participants can collect, manage and publish information anytime during the project life cycle, for the sake of improving efficiency of team communication. The key concepts of CDE are 'integration' and 'single source of truth'. 'Integration' can break down data silos and allow users to get the holistic picture. 'Single source of information' allows source tracing which ensures information reliability.


CDE Enhances Accuracy and Efficiency by Sharing Information and Facilitating Collaboration
CDE has many advantages, such as:
Improve Project Coordination Efficiency: CDE operates under the principle of a single source of truth (SSOT). It is a unified virtual environment running on the network, connecting both external and internal parties to share instant updates on information, libraries and project data. Since the data is categorized, it is easy to reuse. Multi-authored information is co-created and shared online, which could avoid manual input errors. Revisions of drawings and documents based on congregate information could be edited and updated with accuracy. Compared with the traditional workflow where data is scattered, CDE remarkably streamlines project collaboration and information flow;


Effective Management of Information Flow: CDE shares information efficiently and precisely, hence reducing workloads related to double-checking and broadcasting of updates. It saves communication time and cost of all project participants and units;


Risk Reduction: CDE improves transparency of the entire project, it helps on forecasting and reducing risks while improving predictability;


Reduction of Wastes and Carbon Emissions: CDE facilitates planning, facility management and budgeting…etc., hence, reducing wastes and carbon emissions.


In July, Dr. Jacob Kam, Chief Executive of MTR Corporation, delivered a talk titled 'Building the Next Generation MTR Lines' at the 'See What I See' series organized by the Council. He shared MTR's digital strategy which was built on three pillars ─ digital project management, digital engineering and digital construction. He pointed out that MTR has collected various types of data at railway project sites. The CDE platform then consolidated all the data and served as one single source of information, this provided convenience for stakeholders to access information.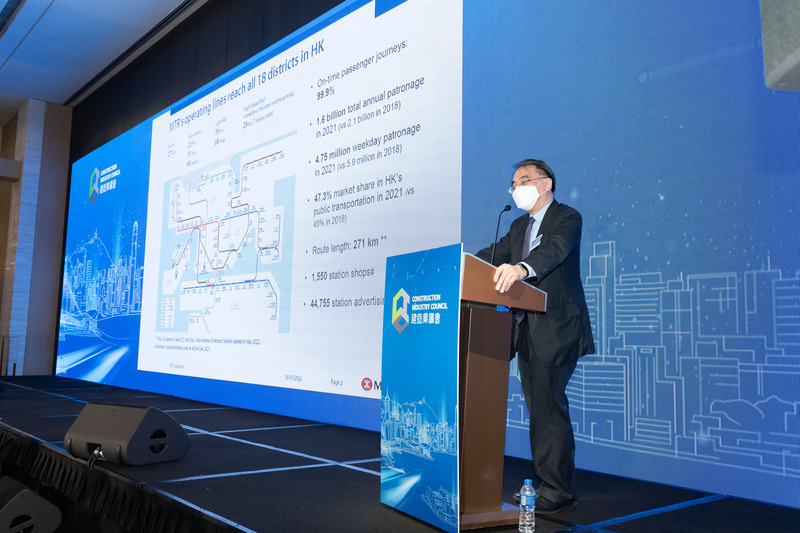 In July, Dr. Jacob KAM, Chief Executive of MTR Corporation, delivered a talk titled 'Building the Next Generation MTR Lines' at the 'See What I See' series organized by the Council.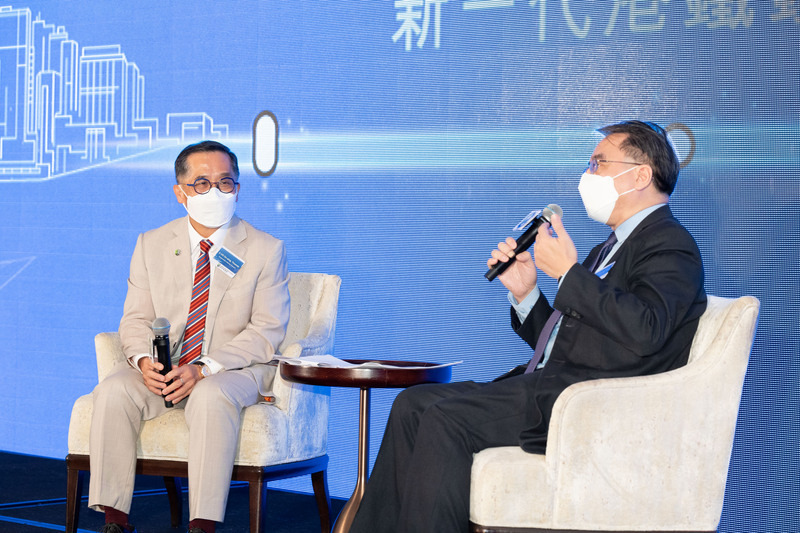 Dr. Jacob KAM (right) pointed out that MTR has collected various types of data at railway project sites. The CDE platform then consolidated all the data and served as one single source of information.
First 'Hong Kong Construction Common Data Environment Award Co-organised by DEVB and CIC
The Development Bureau and the Construction Industry Council co-organized the first 'Hong Kong Construction Common Data Environment Award​' this year. The award aims to recognize the outstanding performance of construction projects and organizations in promoting and applying the CDE. Exemplary practices that can improve project management, enhance collaboration and boost productivity are appreciated. The Council will promote winners' valuable knowledge and experience of using CDE, their experience of digital collaboration will be widely promoted to the industry. Over 40 supporting organizations, including government departments, public organizations, tertiary institutions, organizations and chambers of construction industry and professional associations, are invited for this new award. The award is now open for submission. All CDE pioneers please enroll on or before September 30, 2022!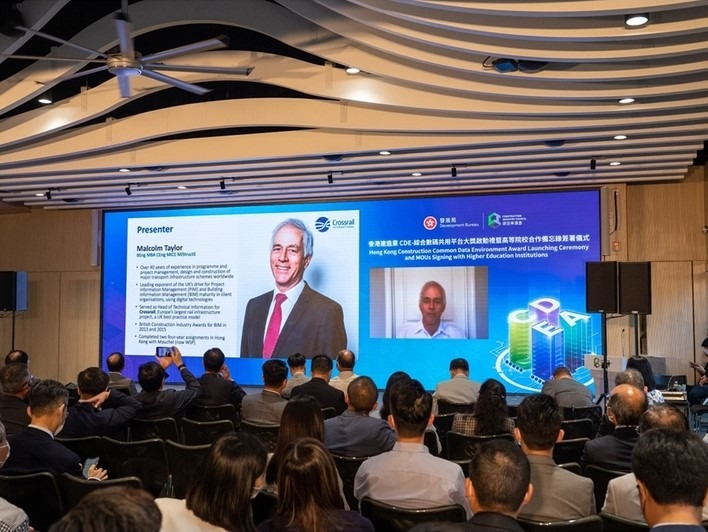 CIC was honoured to invite overseas CDE experts to share their insights at the launching ceremony.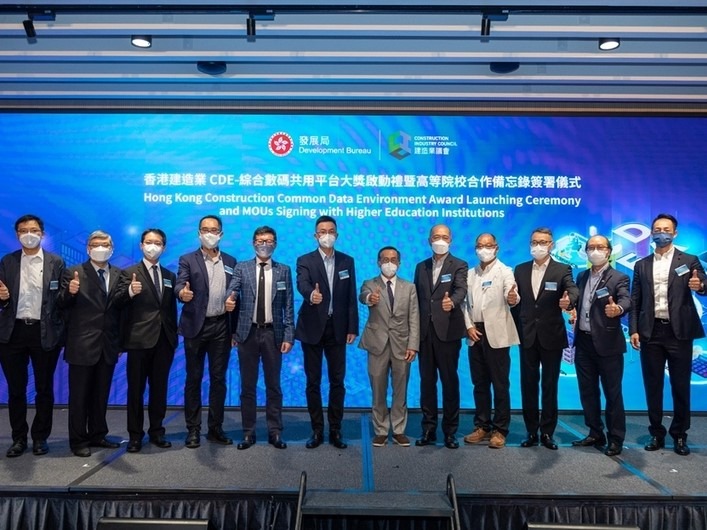 CDE Success Stories from Local and Overseas Experts
At the ceremony, I shared my view on the relationship between the entire project life cycle and data. From design, construction, operation to maintenance, the amount of data generated is huge. In the long run, it will be beneficial to have a shared platform available for all these stages, allowing us to work together in a Common Data Environment. The launch ceremony also invited local and overseas CDE experts to join and share their insights:
'During digitalization of public works, we realize that system, process and people are the most important factors. I would say people is the most crucial one. We have to find the right people with a mindset for change, the necessary know-how and skill sets. They should be provided with the appropriate tool sets for planning and implementing the digitalization journey,' Ir John KWONG, Head of Project Strategy and Governance Office at Development Bureau said.


'Data is at the heart of the project, it is the key to unlocking value and enabling information flow through the processes, because information is the carrier of value. It's all about getting the right information in the right hands at the right time to make the right decision,' Mark ENZER, a construction digitalization expert said.


'To me, a smart city approach to real estate development and operation is using data to iterate towards improvement. That is the opportunity we have. ' said by James BURT, a construction data analysis expert.


'It is about creating an environment where everybody can create and access this collaborative environment for our projects. Processes and technologies are combined together across various project life cycles. CDE is for exchanging and managing data, it means information exchange and coordination with everybody,' Malcolm TAYLOR, a BIM expert said.


We should look to the future, accelerate digitalization and embrace new technologies. Rather than limiting ourselves in the design and construction phase, we should actively mine data for further insights and identify new arenas out of our previous knowledge. Data insights are relatively objective and reliable, it can guide us in the right direction towards corporate innovation.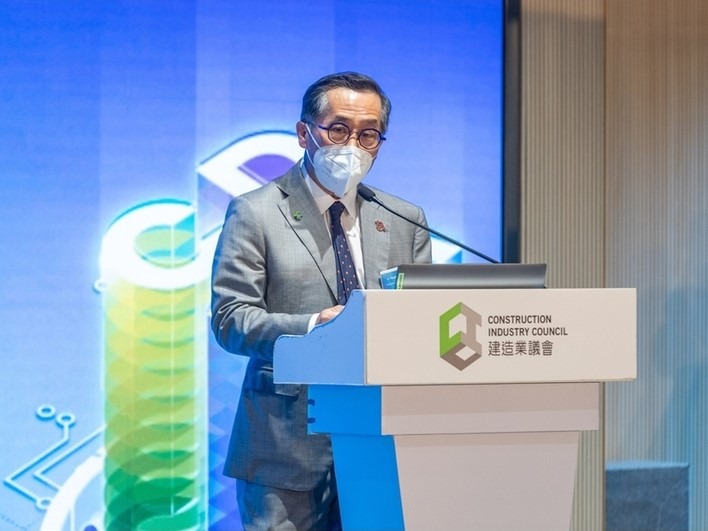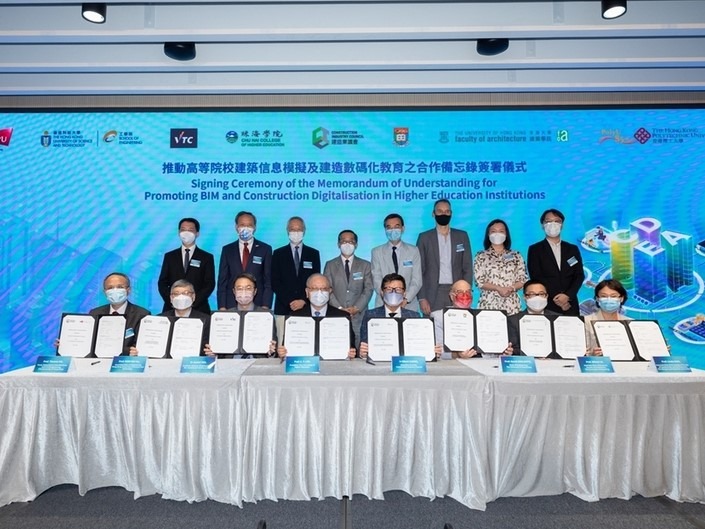 At the ceremony, the CIC signed the MOU Renewals with different tertiary institutions to continue the efforts for providing the new generation to obtain the latest technologies and first-hand information on BIM.
CDE Courses for Continuous Professional Development
Knowledge is power. Regarding talent nurturance, the Council keeps pace with the times. We have curated CDE online contents for continuous professional development training to ensure a sufficient supply of talents with proficient digital skills for the industry. Since 2020, the Council has held several CDE webinars - 'BIM x CITAC CDE Webinar Series', covering topics including CDE standards, project information management, data visualization, cloud collaboration, digital twin…etc., to help industry practitioners fully understand the concepts, deployment and practices of CDE.
Hong Kong's construction industry has made good attempts on the implementation of CDE. Local talents are active in the digitalization of landmark projects like HKSTP Advanced Manufacturing Centre, Central Kowloon Route, Tseung Kwan O Desalination Plant, Kai Tak Sports Park and Lyric Theatre Complex of West Kowloon Cultural District.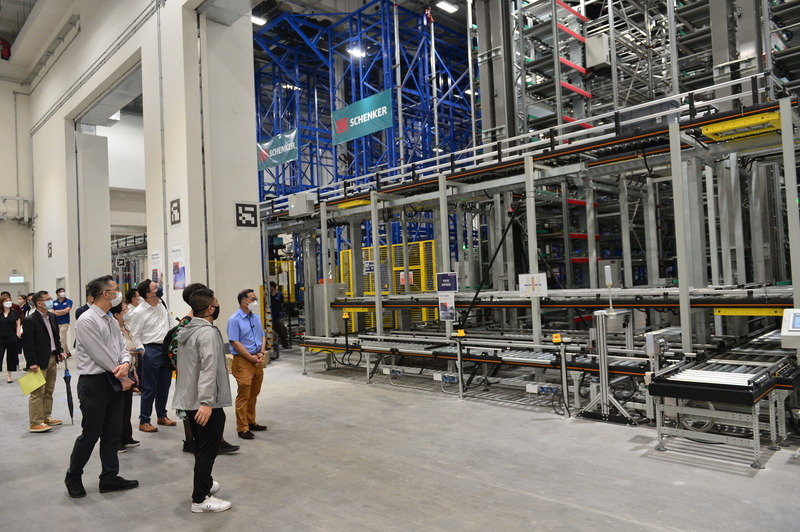 HKSTP Advanced Manufacturing Centre's project team has extensively applied digitalisation in construction.
Hong Kong's construction industry has made good attempts on the implementation of CDE. Local talents are active in the digitalization of landmark projects like Tseung Kwan O Desalination Plant.
First ConTech-Focused Innovation Acceleration Program
On July 28, the Council and the Hong Kong Science and Technology Park launched Hong Kong's first ConTech-focused innovation acceleration program ── the ConTech Accelerator. The accelerator will pair up construction companies with technology start-ups and enterprises, providing testing grounds for experimentation. The program is result-oriented. It encourages participating companies to provide solutions addressing users' pain points, and achieve substantial results through market forces. The scheme focuses on construction safety, green construction and construction productivity. It promotes the industry to formulate the best practices for new construction technologies. In the process of digitalization, if the industry actively connects with Hong Kong's thriving innovation ecosystem, a win-win situation can be expected.
Building and applying CDE is an irreversible trend. The construction industry and the IT industry will converge and get closer. Both large corporations and SMEs in the industry should formulate and brush up their digitalisation strategies. When industry leaders talk about advancing the CDE, they all emphasized the impact of a change in mindset. Digitalization is not only about technology acquisition, talent cultivation is an indispensable part of it. It would be in the interest of industry practitioners to train up or recruit data analytics professionals to utilize data in daily work. Let's maximize the potential value of data and embrace new opportunities from digitalization.