Message from Chairman
ZCB is Hong Kong's first zero carbon building. It is an exhibition, educational, outreach, promotion and rental facility that combines an urban native woodland and a state-of-the-art green building housing over 80 eco technologies. ZCB is a destination for researchers, innovators, policymakers, newlyweds, teachers, students, parents, and children alike to take a positive step together towards promoting a low carbon city. It was built by the Hong Kong Construction Industry Council in collaboration with the Hong Kong Government, as the construction industry's contributive gift to Hong Kong.
As the Chairman of the ZCB, I would like to welcome you to the website. Whether you are planning a visit, browsing for green exhibition rental options, researching on green buildings, learning about a low carbon labelling, or looking for sponsorship opportunities, we hope you will not only find what you need, but also be inspired by the science, innovations, designs, and ideas embodied by this amazing place. ZCB is constantly evolving to bring you the latest and the best in energy efficiency and conservation.
Most importantly, through ZCB, we wish to demonstrate that even in a high-density city such as Hong Kong a sustainable future is within reach. To make green buildings and a low carbon lifestyle achievable, it takes awareness, creativity, technology, and your commitment to achieve sustainability. Therefore, we encourage you to see ZCB for yourself and be inspired as to how you can make a difference. I cordially invite you to also join our research promotion, education, outreach, and other programmes and enjoy all that ZCB can offer to the Hong Kong community.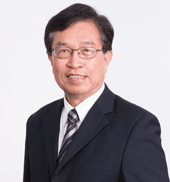 Mr. CHEUNG Hau-wai
Chairman, Zero Carbon Building