Procedures
Product manufacturers or suppliers who wish to register their products under the CIC Carbon Label Scheme are required to go through three steps: (i) Carbon Auditing; (ii) Verification; and (iii) Certification.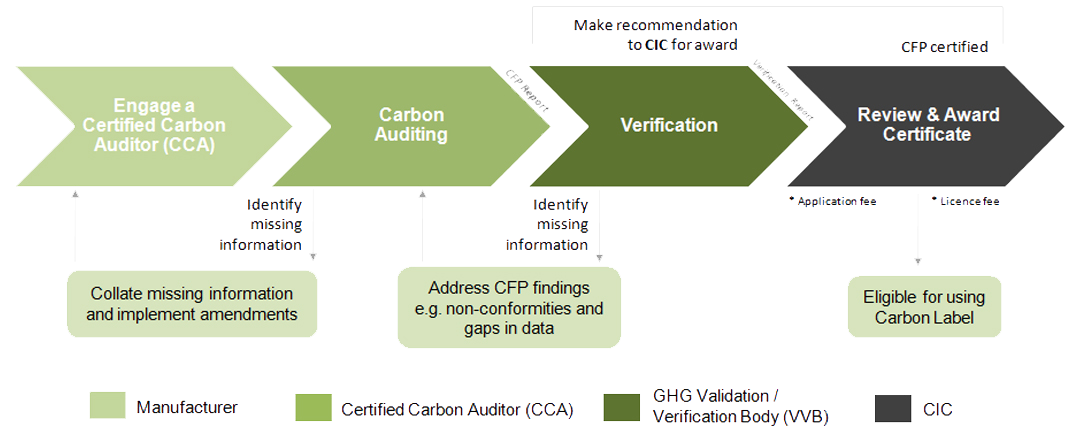 Certification Process
Carbon Auditing
To apply for the CIC's Carbon Label1, the Applicant shall first engage a Certified Carbon Auditor (CCA), either internally or externally, to carry out the carbon auditing and reporting duties. Based on the requirements stated in the Guide, and the CFP quantification tool provided, a CFP study report should also be compiled by the appointed CCA, detailing the carbon footprint of the concerned product throughout the life cycle stages. The CFP study reports prepared by a non-certified CCA with at least 2 years experience in CFP auditing are acceptable during grace period until 31 December 2016.
Verification
The CFP study report and relevant documentation should then be validated and verified by a GHG Validation / Verification Body (VVB) accredited by Hong Kong Accreditation Service (HKAS) or equivalent accreditation programmes2 in accordance with ISO 14064-1:2006 "Greenhouse gases -- Part 1: Specification with Guidance at the Organisation Level for Quantification and Reporting of Greenhouse Gas Emissions and Removals"3 or ISO/TS 14067:2013 "Greenhouse gases -- Carbon footprint of products -- Requirements and guidelines for quantification and communication" 3. Applicants shall provide relevant supporting information as requested by the VVB. Verification reports prepared by non-accredited VVBs with at least 2 years experience in CFP auditing are acceptable during the grace period until 31December 2016.
An individual application shall be made for a specific product category that fulfils equivalent functions (ISO 14025:2006).
Accreditation programmes refer to those accredited by the International Accreditation Forum (IAF) i.e. the European co-operation for Accreditation (EA), the InterAmerican Accreditation Cooperation (IAAC), and the Pacific Accreditation Cooperation (PAC) through the Multilateral Recognition Arrangement (MLA).
The operational boundary shall be extended to raw material acquisition and

off-site

transportation for assessing the carbon footprint at the product level.
Certification
Once the CFP study report and relevant documentation are verified, Applicants shall submit a completed application form and corresponding application fee to ZCB. CIC will review the submitted CFP study report and relevant documentation and grade the carbon performance of the product(s) (Grades of carbon rating as shown below). Based on the review CIC shall issue the carbon label with a corresponding carbon rating with a validity period of two years. Upon complying with the Guideline for the Use of the Certificate of Labelling and the Carbon Label (the "User Guide"), with the payment of a licence fee, the carbon label with product details may appear for consumer information by print, online or other accessible media. Subsequent to certification, CIC may conduct periodic surveillance assessments of the certified product. Licence renewal shall be applied at least two months prior to the licence expiry date.
Five Grades of the CIC Carbon Label
CIC Carbon Label (Sample)